.22 Epperson Cricket
Jump to navigation
Jump to search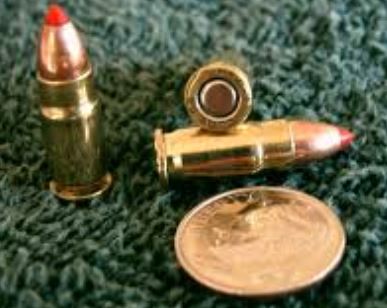 The .22 Epperson Cricket (also known as the .22 Pokey or .22 KTW) is a wildcat cartridge developed by "Vibe" based on the .25 ACP where the case is necked down to accept a .224 caliber bullet (as normally found in cartridges like the .223 Remington.
This cartridge is very similar to the .224 Montgomery, though they may not be identical overall. Likewise, both of these cartridges happen to very closely resemble the Russian 5.45x18mm handgun round, all acting as a small handgun round that utilizes a spitzer-type bullet.
Information and discussion by the cartridge's creator can be found at the Saubier forum as well as at the Family, Friends & Firearms forum.
Ballistics
The cartridge creator claims to have achieved a number of successful and well-performing loads, summarized (HERE). This cartridge is able to vastly outperform the .25 ACP in all aspects, certainly in comparison to how it typically performs in a handgun.
| Bullet Weight / Type | Velocity (FPS) | Energy (Foot Pounds) |
| --- | --- | --- |
| 35 Gr Hornady V-Max | 1850 fps | 266 ft lbs |
| 45 Gr Hornady | 1600 fps | 256 ft lbs |