7x65R
Jump to navigation
Jump to search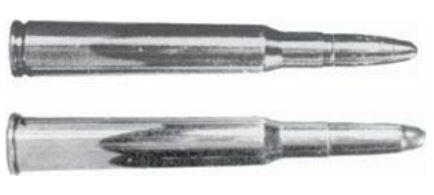 The 7x65R, also referred to as the 7x65mm, 7x65 Brenneke or other designations, is a rimmed centerfire cartridge developed by German small arms inventor Wilhelm Brenneke in 1917(?). It is similar (but not identical) to the 7x64mm Brenneke, and features a rim in order to be used effectively in single shot or combination firearms. The cartridge holds a 7mm (.284 caliber) bullet and utilizes a large rifle primer such as Federal #210 primers.
It was designed and is suitable for medium to large game from boar, to perhaps even bear and moose hunting, as advertised by a number of manufacturers who still offer this cartridge.
Cartridge Dimensions and Specifications
Below is a diagram showing cartridge dimensions for the 7x64mm Brenneke (top) and the 7x65R (bottom). Although they are extremely similar (other than the rim of the 7x65R), they are not quite identical in their other dimensions.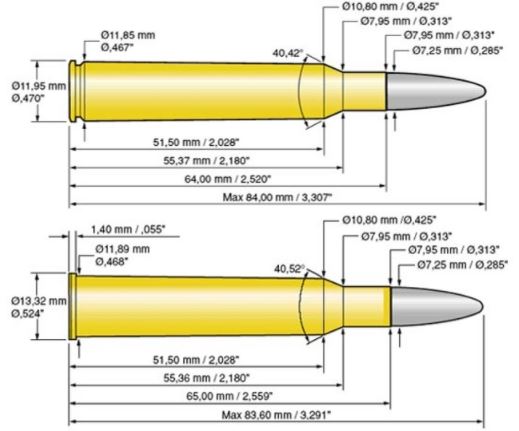 Ballistic Performance
| Manufacturer / Bullet Design | Bullet Weight / Type | Velocity | Muzzle Energy |
| --- | --- | --- | --- |
| Brenneke "Torpedo" | 177 gr (SP) | 2,690 fps | 2,851 ft lbs |
| Norma "Vulkan" | 170 gr (SP) | 2,657 fps | 2,666 ft lbs |
| Sellier & Bellot "Cutting Edge" | 173 gr (SP) | 2,608 fps | 2,613 ft lbs |
| Sellier & Bellot "Cutting Edge" | 140 gr (FMJ) | 2,850 fps | 2,550 ft lbs |
| RWS "Evolution" | 159 gr (SP) | 2,657 fps | 2,492 ft lbs |