Birchwood Casey
Jump to navigation
Jump to search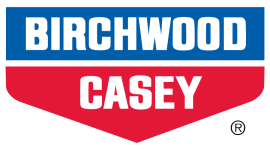 Birchwood Casey was founded in 1948. They are a company offering products that cater to gun and shooting enthusiasts as well as gunsmiths alike.
They feature a wide variety of products including paper and steel shooting targets, along with a wide range of gunsmithing related products such as metal and wood finishes marketed specifically for firearms, as well as other miscellaneous firearm-related items.
Some of their most well-known products include:
Tru-Oil (A popular gun stock finish consisting of linseed oil, polyurethane and some other ingredients),
Steel shooting targets for assorted calibers, rated from .22 Long Rifle, to higher calibers.
Paper shooting targets, including their "Darkotic" splattering targets (featuring zombies and so on).
Steel bluing solutions such as their Perma Blue and Super Blue products.