Ruger MAX-9
Jump to navigation
Jump to search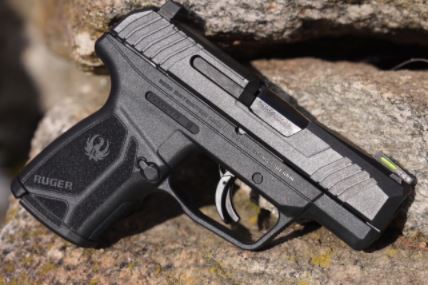 The Ruger MAX-9 is a sub-compact polymer-framed semi-automatic handgun chambered in 9mm Luger. It was released in mid-March of 2021, with an MSRP of $499.00 USD for all models and is primarily intended for concealed carry / self-defense. It includes both a 10 and 12 round magazine, except for the Model #3501 which includes two 10-round mags, likely for local compliance purposes. It's an interesting choice, since it allows the user to choose what best fits them for carry, as an example. The 10-round magazine fits flush with the bottom of the magazine well, while the 12-round magazine extends only very slightly below it.
It appears that the Ruger MAX-9 is a direct answer to other recent (and popular) sub-compact handguns, such as the SIG P365, Smith & Wesson M&P Shield Plus, etc. As of release, the MAX-9 is very competitive on price against other major options on the market considering the $499.00 USD MSRP.
Specifications
Specs shared by all models:
Slide Material: "Through-Hardened Alloy Steel"
Slide Finish: Black Oxide
Barrel Material: Alloy Steel
Barrel Finish: Black Oxide
Grip Frame: "High Performance, Glass-Filled Nylon".
Front Sight: Tritium Fiber Optic
Rear Sight: Drift Adjustable
Optics Ready: Yes
Slide Width: 0.95"
Barrel Length: 3.20"
Overall Length: 6.0"
Height: 4.52"
Weight: 18.4 oz.
Rifling: 1:10 Twist, Right-Hand, 6-Groove.
State Restrictions: Not available in California or Massachusetts.
MSRP: $499.00 USD
Model / SKU Specific Differences Listed Below:
Model 3500
Safety Option: "Standard Model" - with external manual safety lever.
Magazines: Includes 12 & 10 round magazines.
Model 3501
Safety Option: "Standard Model" - with external manual safety lever.
Magazines: Includes two 10-round magazines - Likely for compliance?
Model 3502
Safety Option: "Pro Model" - without External Manual Safety Lever
Magazines: Includes 12 & 10 round magazines.
Note: It doesn't appear that the version with no external safety (Model 3502) is available to be shipped with two 10-round magazines to states that limit magazine capacity. Perhaps a number of states limited to 10 rounds also require a manual safety for concealed carry or otherwise? (Needs confirmation)
Appearance and Aesthetics
The MAX-9 seems to resemble a cross between the Ruger LCP II and the Ruger Security-9, featuring the aesthetically pleasing lines and cuts that Ruger has been putting out on such handguns in recent years. This seems fitting, since the MAX-9 seems to be a mid-way point between the aforementioned handguns in size, capacity and so on.
Reception
As of only about a week after release, reviews have been very positive from various publications and influencers, as well as regular consumers who have been able to get their hands on one. But as with any firearm or otherwise, time will tell just how well they perform and hold up under extended use.
Video Presentation and Review