RG Model 14
Jump to navigation
Jump to search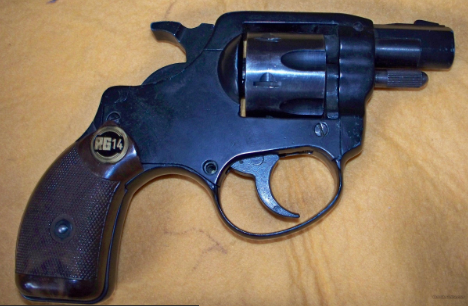 The RG Model 14, (also known as the "RG-14" or "Rohm RG14") is a .22 Long Rifle double-action revolver that was manufactured by German gun manufacturer Röhm Gesellschaft and its U.S. division RG Industries. It seems to have come in either a 2-inch "snub nose" version, or with a slightly longer 3-inch barrel.
The operation of this revolver is somewhat atypical. Instead of a thumb release to swing the cylinder open, this gun requires the user to remove the "ejector rod" from the front of the cylinder, with will then allow the cylinder to swing open for loading and unloading. The removed rod can also be used as an easy tool for pushing out any stuck cases one might experience.
This revolver is probably most famous for being the gun used by John Hinckley Jr. in the attempted assassination of Ronald Reagan.
Specifications
Caliber: .22 Long Rifle.
Barrel Length: 2-inch or 3-inch barrel.
Capacity: 6-round cylinder.
Action Type: Double-Action / Single-Action revolver.
Quality / Reputation
Although the RG-14 is not a particularly high-quality gun, it is generally considered one of the better and more reliable firearms produced by RG. That is, at least in comparison to many of the other guns produced by the company.
History / Pop Culture Significance
Attempted assassination of Ronald Reagan
RG firearms are notorious for having turned up in more than a few crimes back in the day. However, the RG Model 14 is probably most famous for being the revolver used by John Hinckley Jr. in his attempted assassination of United States President Ronald Reagan on March 30th, 1981.