.219 Zipper
Jump to navigation
Jump to search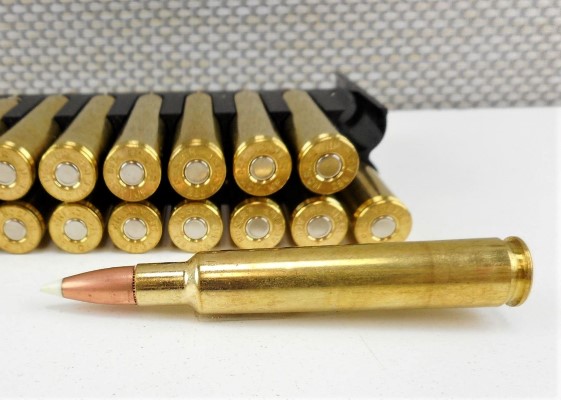 The .219 Zipper cartridge was created by Winchester Repeating Arms in 1937 to be used in their Model 64 rifle. It is a 30-30 Winchester cartridge necked down to accept a .22 caliber bullet (actually .2245 caliber). Marlin Firearms also offered their Marlin Model 336 rifle chambered for the cartridge.
While the .219 Zipper was supposed to compete against other varmint cartridges of the time, most lever-action rifles use tube magazines, which prohibit the use of a pointed spitzer-style bullet. This meant problems with accuracy. Winchester stopped producing .219 Zipper ammunition in 1962, Remington Arms stopped production of the cartridge soon afterwards.
Although flat or round-nosed projectiles cause rapid loss of velocity, the .219 Zipper is a fast-moving cartridge and is suitable for small game or varmints, including coyotes, and even deer and wolves if loaded with a heavier 55 grain bullet, according to Frank Barnes in his book Cartridges of the World. He also notes that it works well in guns designed to fire rimmed ammunition, such as rebarreled Steyr-Mannlicher M1895s or Lee–Enfields, but not in Mauser-type actions, which are not designed for this purpose. However, Winchester's Model 70, also a Mauser-type action, had been successfully adapted to semi- and fully-rimmed cartridges, such as the .220 Swift and the .219 Zipper.
Derivatives
The .219 Zipper is the parent case of the .219 Donaldson Wasp. Also, P.O. Ackley created the .219 Zipper Improved in 1937. Leslie Lindahl's Chucker and Super-chucker and "wildcat" case modifications by Hervey Lovell, Lysle Kilbourne, and W. F. Vickery offered similarly superior ballistics in stronger single-shot and bolt action firearms according to Charles Landis in his 1947 book Twenty-Two Caliber Varmint Rifles (Small Arms Technical Publishing Company p.60).
Ballistics
| Bullet Weight / Type | Muzzle Velocity | Muzzle Energy |
| --- | --- | --- |
| 46 gr. (~2.98 G) Speer flat-nosed | 3,220 ft/s (980 m/s) | 1,059 ft lbs (1,436 J) |
| 50 gr. (~3.24 G) Hornady SX spire point | 3,194 ft/s (974 m/s) | 1,133 ft lbs (1,536 J) |
| 55 gr. (~3.56 G) Nosler Spitzer boat tail | 3,097 ft/s (944 m/s) | 1,172 ft lbs (1,589 J) |
NOTE: The ballistics data above are for maximum loads, as determined by the writers for Accurate Arms. This was based upon the Winchester Model 64 rifle being chambered in .25-35 WCF and .30-30 Winchester rather than SAAMI specifications.
Cartridge Specs & Dimensions
Parent case: .30-30 Winchester
Case type: Rimmed
Bullet diameter: .2245 in (5.70 mm)
Neck diameter: .253 in (6.4 mm)
Shoulder diameter: .365 in (9.3 mm)
Base diameter: .422 in (10.7 mm)
Rim diameter: .506 in (12.9 mm)
Rim thickness: .063 in (1.6 mm)
Case length: 1.938 in (49.2 mm)
Overall length: 2.260 in (57.4 mm)
Case capacity: 34 gr H2O (2.2 cm3)
Rifling twist: 1 in 14 in (360 mm)
Primer type: large rifle
Maximum pressure: 42,000 psi (290 MPa)
Other Information
References
Barnes, Frank C., ed. by John T. Amber. ".219 Zipper", in Cartridges of the World, p.9. Northfield, IL: DBI Books, 1972. Cartridges of the World
Charles S. Landis - "Twenty-Two Caliber Varmint Rifles" - Page 60
External links
Help Support FirearmWiki
We have a number of ways you can help to support FirearmWiki, including various affiliates. If you're already in the market for products below, it would help tremendously if you'd consider using our links to buy! They'll give us a commission at zero extra cost to you! Thanks so much for your support!
Palmetto State Armory - A major retailer for everything gun-related. Firearms, ammo in all major calibers, and unbeatable deals on AR-15 kits & pre-builts.
True Shot Gun Club - An online retailer that specializes in bulk ammunition in all major calibers, including 9mm, 5.56mm, 7.62x39, 12 gauge and many more.
Brownells - Founded in 1939, Brownells is a one-stop shop for all things firearms, ammunition, reloading & gunsmithing supplies, and more.
GritrSports - A growing retailer who carries all kinds of firearms, ammunition, and various gear and accesories.
GunMag Warehouse - Specializing primarily in firearm magazines, ammo in all major calibers, as well as accessories & more!
Spartan Armor Systems - One of the leading manufacturers of various body armor, as well as steel shooting targets.
Black Ovis - Specializes primarily in hunting gear and various hunting supplies, including archery, camping etc.
Aero Precision - A major maanufacturer of AR-15's, offered in a variety of calibers.
Stag Arms - A manufacturer of AR-15 type firearms, available in various major calibers.
Airgun Depot - A major source for all things airguns & accessories, including ammo, CO2 cartridges, optics, targets & more.
Amazon.com - Our Amazon affiliate link. We'll get a small kickback for any purchase you make, at no extra cost to you!