Cartridges of the World
Jump to navigation
Jump to search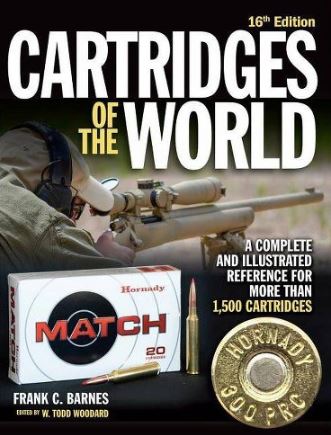 The book series Cartridges of the World: A Complete and Illustrated Reference for Over 1500 Cartridges by Frank C. Barnes (edited by Todd Woodard) is a work that has been updated since its original release in 1965. The 16th Edition was released on July 23rd, 2019.
Cartridges of the World covers a vast number of different cartridges, from rifle, pistol, shotgun ammunition, from many places of origin such as North America and Europe. It covers current ammunition, obsolete ones, as well as a number of oddities. One popular section covers wildcat cartridges, which are typically modified versions of commercially-produced cartridges, either created for fun by enthusiasts, and/or to alter or improve performance in one way or another.
On top of offering extensive information on a vast number of ammunition types, Cartridges of the World also offers more basic information, such as describing the differences between centerfire and rimfire, and other surface-level information.
Editions
1st edition (1965): ASIN B000CRY476
2nd edition (1969): ASIN #
3rd edition (1976): ISBN 978-0-695-80326-1
4th edition (1980): ISBN 978-0-910676-16-8
5th edition (1985): ISBN 978-0-910676-95-3
6th edition (1989): ISBN 978-0-87349-033-7
7th edition (1993): ISBN 978-0-87349-145-7
8th edition (1997): ISBN 978-0-87349-178-5
9th edition (2000): ISBN 978-0-87341-909-3
10th edition (2003): ISBN 978-0-87349-605-6
11th edition (2006): ISBN 978-0-89689-297-2
12th edition (2009): ISBN 978-0-89689-936-0
13th edition (2012): ISBN 978-1-4402-3059-2
14th edition (2014): ISBN 978-1-4402-4265-6
15th edition (2016): ISBN 978-1-4402-4642-5
Criticism
Not everyone has given the series rave reviews. One reviewer (Russ Chastain of About.com), criticized the 11th Edition for having certain cartridges categorized in a strange way, as well as for not including cartridge dimensions and diagrams, even on modern cartridges where perhaps this information should have been an important inclusion. An archived version of his review can be found (here).
Where to Buy