ArmaLite AR-26
Jump to navigation
Jump to search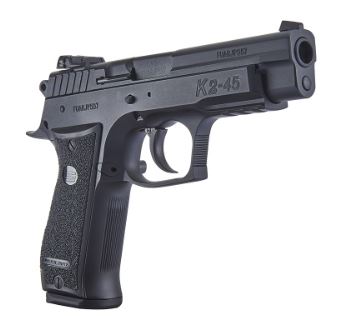 The ArmaLite AR-26 was a semi-automatic handgun chambered in .45 ACP that was announced but never released by ArmaLite. One might consider this pistol to have been the ArmaLite AR-24's big brother. The AR-26 was presumably based on the CZ 97 series, which itself is the scaled up .45 ACP version of the CZ 75. It would have been sold alongside the AR-24 9mm pistol, which was based on the CZ 75, but never saw release for unknown reasons.
Since the AR-24 was manufactured by Sarsılmaz, it's also probably safe to assume that the AR-26 was going to be an imported and re-branded model from the same manufacturer. It may have been based on either the Sarsılmaz K2-45, or an older similar offering from the Turkish gun manufacturer.
Unfortunately, not much information is available on this handgun, other than the fact that it was going to exist but was cancelled. We haven't been able to track down a single image of any handgun marked as the "ArmaLite AR-26", so much of this is pure speculation as mentioned. It's also unknown whether the AR-26 would feature full-sized and compact models like its 9mm counterpart, the ArmaLite AR-24 and ArmaLite AR-24K respectively.
Specifications
Below are the specifications for the Sarsılmaz K2-45 (Full-sized & Compact models), which is the closest pistol made by Sarsılmaz that we could compare to what the ArmaLite AR-26 might have been based on.
Caliber: .45 ACP
Action: Double Action
Capacity: 14+1
Barrel Length: 4.7 inches (120 mm)
Overall Length: 8.3 inches (212 mm)
Overall Height: 5.7 inches (147 mm)
Overall Width: 1.3 inches (35 mm)
Overall Weight: 40.2 oz (1,140 grams)
Other Info / Specs
Alloyed Forged Steel & Forged Stainless Steel Frame, Barrel and Slide.
Adjustable Rear Sight
Manual Safety, Firing Pin Block and Hummer Block
Picatinny Rail
Changeable Front Sight
Caliber: .45 ACP
Action: Double Action
Capacity: 13+1
Barrel Length: 4.2 inches (107 mm)
Overall Length: 7.8 inches (200 mm)
Overall Height: 5.7 inches (147 mm)
Overall Width: 1.3 inches (35 mm)
Overall Weight: 38 oz (1,080 grams)
Other Info / Specs
Alloyed Forged Steel & Forged Stainless Steel Frame, Barrel and Slide.
Adjustable Rear Sight
Manual Safety, Firing Pin Block and Hummer Block
Picatinny Rail
Changeable Front Sight