OTs-23 Drotik
Jump to navigation
Jump to search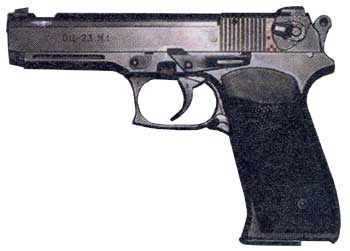 The OTs-23 Drotik (ОЦ-23 Дротик, Russian for "dart") is a Russian blowback-operated select-fire machine pistol chambered in 5.45x18mm, and manufactured si. It is also known as the SBZ, after the initials of it's designers: Stechkin, Baltser and Zinchenko.
The pistol has three selector positions: Safe, semi-automatic, and 3-round burst. It also features an indicator that allows the operator to check their remaining magazine capacity.
It was originally intended for special operations or to fill the role of a Personal Defense Weapon (PDW). It features a ported barrel for reduced recoil, though the cartridge it fires is already very low in power. It was probably for that reason that this version of the pistol was not very successful. While the 5.45x18 was considered adequate in a small gun like the PSM Pistol, it was found to be lackluster in the role of a machine pistol / personal defense weapon.
These guns were not built in large quantities, likely for the aforementioned reasons. However, it did serve as the base for the OTs-33 Pernach, which is largely the same gun, but chambered in the more powerful 9x18mm Makarov cartridge.
Specifications
Caliber: 5.45x18mm.
Capacity: 24-round detachable magazine.
Fire Modes: Selector switch for Semi-auto or three round burst
Fire Rate: About 1800 RPM (burst mode).
Barrel Length: 4.9 inches (12.5cm)
Overall Length: 7.7 inches (19.5cm)
Weight: 1.9 lbs (0.86 Kg)
Video / Demonstration
The Drotik is featured in the following video, starting at about 2 minutes 55 seconds in. Can be seen firing semi-auto and in 3-round burst modes.