PSM Pistol
Jump to navigation
Jump to search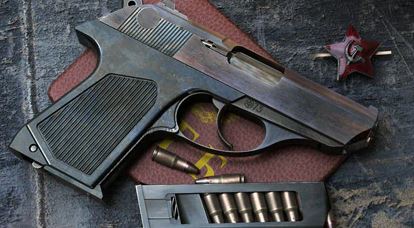 The PSM (Pistolet Samozaryadny Malogabaritny, Russian for "compact self-loading pistol") is a Soviet semi-automatic handgun developed by the Tula Design Bureau around 1969 to 1970 as a self-defense firearm for police and military officers. The pistol entered production at the Izhevsk Mechanical Plant in 1973. It was developed alongside the cartridge it is chambered for, the 5.45x18mm.
For a multitude of reasons, the PSM has gained a certain amount of infamy, becoming known as a sort of "assassin's pistol". This is probably in no small part due to the 5.45x18mm's excellent ability to penetrate body armor and so on. But this isn't necessarily the case. While the KGB for example did end up adopting these small and lightweight pistols, it was always intended as a basic sidearm for military officers. Likely as an alternative to carrying a larger firearm, or being unarmed.
Apparently these have not been produced in large quantities. Ian McCollum in his overview of the gun, states that approximately 1 of these guns were made for every 50 Makarov pistols.
Specifications
Caliber: 5.45x18mm.
Magazine / Capacity: 8-round detachable magazine.
Barrel Length: 3.3 inches (84.6mm).
Overall Length: 6.1 inches (155mm).
Height:4.6 inches (117mm)
Weight: 16 ounces (460 grams).
Models / Variants
IZh-75 (ИЖ-75) - an export model in .25 ACP.
IZh-78 (ИЖ-78) - 7.6mm gas.
IZh-78-9T (ИЖ-78-9Т) - Blank-firing pistol chambered in 9mm P.A.K.
Video / Demonstration
Ian McCollum of Forgotten Weapons did an overview of this pistol, as well as an armor penetration test. He also addresses the misconceptions on the gun: