Sarsılmaz SAR 9
Jump to navigation
Jump to search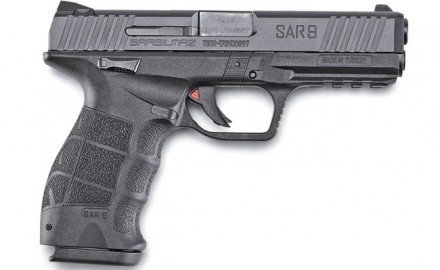 The Sarsilmaz SAR 9 (also written as "SAR9"), is a 9mm striker-fired semi-automatic handgun manufactured by Sarsilmaz of Turkey, and imported / distributed by their American company, Sar USA. It is a polymer-framed pistol that appears to take design cues from Heckler & Koch, and perhaps from Glock as well. The grips / texturing is practically identical to what is found on the HK VP9 and HK P30. Likewise, the slide and its squared-off shape is quite similar to Glock handguns, especially when viewed from the top. In fact, the internals of the SAR 9 are fairly similar to Glock handguns.
Sarsilmaz previously imported these handguns into America through European American Armory (EAA). However, they founded their own American subsidiary in late 2017 / early 2018, Sar USA, which is now the exclusive importer and distributor of Sarsilmaz firearms within the United States.
Military And Police Testing
One of the major accomplishments of the SAR 9 series has been outperforming other major manufacturers. NATO did a 90,000 round live fire test and put this pistol up against major manufacturers from the United States, Germany and Austria. The SAR 9 apparently won.
Sarsilmaz did a 150,000 round test, and police also did a 50,000 round torture test. We're not completely sure what this means. We're unaware of what parts needed to be replaced until then, and what would still be functional? It's not clear, but these tests have seemed to prove these handguns to be extremely tough. Not to mention surviving other testing methods such as baking, freezing, salt fog, rain, the list goes on.
Specifications
Note: These specs are for the standard SAR 9. Other models will be listed in another section.
Caliber: 9x19mm NATO
Action: Single Action
Capacity: 15+1 / 17+1
Barrel Length: 4.4 inches (113 mm)
Overall Length: 7.6 inches (193 mm)
Overall Height: 5.5 inches (140 mm)
Overall Width: 1.4 inches (37 mm)
Overall Weight: 27.8 oz (790 grams)
Models & Variants
SAR 9: The standard model. Picture and specs are above.
SAR 9X "Platinum": The "Race Gun" of the lineup. Features a Cerakote finish, slide serrations etc. (Possibly upgraded trigger?)
SAR 9C: Compact model. Shorter barrel, smaller height dimension etc. Not available in U.S.?
SAR 9T: "Thin" version? Everything is the same, but gun is thinner and slightly lighter. Not available in U.S.?
SAR 9 METE: Sparse information on this model. Not available in U.S.?
SAR 9 SPORT: Longer barrel, and as a result slightly heavier.