.244 Halger
Jump to navigation
Jump to search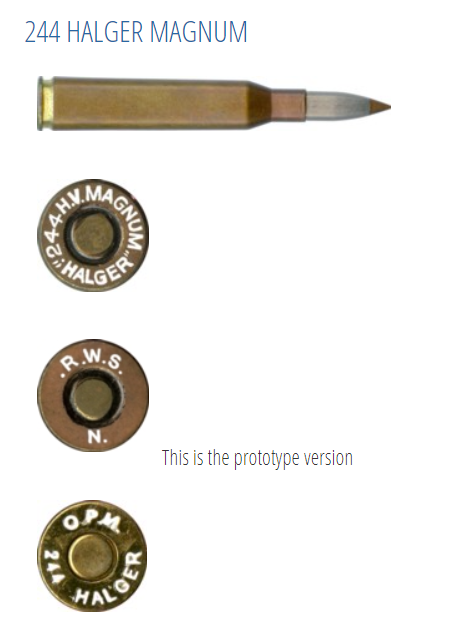 The .244 Halger High Velocity Magnum (also referred to as ".244 Halger H.V. Magnum", or simply ".244 Halger") was an early hyper-velocity rifle cartridge devloped in Northern Germany (in the city of Kiel?) by the "Halger" company. To paraphrase Elmer Keith in his American Rifleman article "The .250 O'Neil Magnum" (April 1937), this was a notoriously accurate cartridge and was inspiration for the O'Neil cartridge to live up to. According to our research, it seems the .244 cartridge is the more obscure of the two rounds created by Halger, the other being the .280 Halger Magnum.
"Halger", the name of the company (and their cartridges), appears to be a contraction of "Halbe" and "Gerlich". We assume these are the founders of the firm, but this requires verification.
Ballistic Performance
According to this auction listing at Morphy Auctions, The Halger firm advertised the cartridge as containing an 87-grain bullet, with a muzzle velocity of 3,770 feet per second (1149 meters per second) for a muzzle energy of 2,746 ft lbs of energy (3,723 Joules).
| Bullet Weight | Velocity | Muzzle Energy |
| --- | --- | --- |
| 87 gr. (~ 5.64 G) | 3,770 ft/s (1149 m/s) | 2,746 ft lbs (3,723 J) |
Halger Rifle Photo Gallery
Below is a gallery of photographs sourced from Morphy Auctions for a particular auction they held for a custom Halger-built Mauser, chambered in their .244 Halger cartridge. The page also contains good information on the rifle, and history of the Halger company.
Other Information
External Links
Help Support FirearmWiki
We have a number of ways you can help to support FirearmWiki, including various affiliates. If you're already in the market for products below, it would help tremendously if you'd consider using our links to buy! They'll give us a commission at zero extra cost to you! Thanks so much for your support!