Firearms Import and Export Corporation (FIE)
Jump to navigation
Jump to search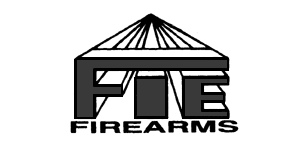 Firearms Import and Export Corp. (FIE), also known as "Firearms Import Export", "FIE Miami", "F.I.E." or simply "FIE", was an American firearms importer located in Hialeah, Florida (just outside of Miami). The company filed for bankruptcy in November of 1990. All models were discontinued.

As their name might suggest, they did not manufacture any of their own guns, but rather sourced them from a number of firearm manufacturers from around the world. Those manufacturers included:
and a number of others.
List of Models

CBC Model SB series single-shot shotguns (12 Gauge, 20 Gauge, .410 Bore etc).

FIE Cowboy, a .22 rimfire single-action revolver,

FIE Titan pistol (a re-branded Tanfoglio GT27), manufactured by Tanfoglio of Italy, and imported/assembled by Firearms Import and Export Corp. These employed a cheap Zamak alloy frame (instead of Tanfoglio's original steel frame) to get around the Gun Control Act of 1968, which heavily restricted importation of foreign compact handguns.