Glenfield Firearms Company (J.C. Penney)
Jump to navigation
Jump to search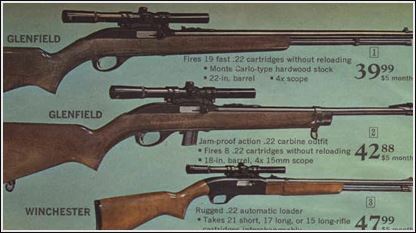 Glenfield Firearms Co. was the company and brand name used by J.C. Penney for the firearms they sold. Unlike some other similar brand names used by major stores, firearms manufactured for J.C. Penney's "Glenfield" name were all sourced from a single company: Marlin Firearms.
The Glenfield line have been known for high quality and longevity, so finding these guns used on the aftermarket is quite easy.
Because of the age of these firearms, all guns with Glenfield branding over 50 years of age from their dates of manufacture, and are therefore C&R eligible.
Glenfield Models and Manufacturers List
The list below was sourced from: https://gun-data.com/glenfield_Firearms.html
While this appears to be the full list of Glenfield Firearms and their original model numbers from Marlin, it's very possible this list is not complete. The information at Gun-Data.com has been entered into the table below: