IWI Jericho 941
Jump to navigation
Jump to search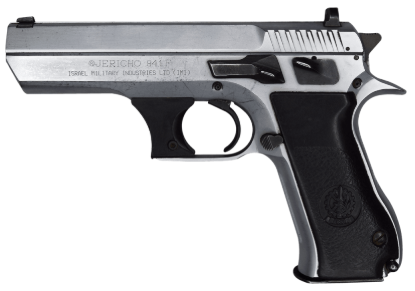 The IWI Jericho 941 series of handguns, (formerly the "IMI Jericho 941" under the company's older name) is an Israeli semi-automatic handgun that has been in production since 1990 and is still in service in Israel as well as a number of other nations. The gun's name originally comes from the cartridges it was to be chambered in: The 9x19mm Parabellum, as well as the .41 Action Express, though the latter never took off.
The Jericho 941 is largely based on the CZ-75, a well-proven combat/service handgun. IMI sourced their parts from Italian firearms manufacturer Tanfoglio, who was (and still is) famous for their own CZ-75 clones. This allowed them to begin with a proven and reliable design from the start without many of the growing pains that can come along with designing a completely new gun, especially in the case of a service firearm.
The Jericho 941 series has been sold by a number of other companies over the years, under several different names. Magnum Research imported them and sold them as the Baby Desert Eagle, which made sense, considering the Jericho 941 does share some resemblance to the full-sized Desert Eagle. It was also sold as the Uzi Eagle by Mossberg.
Specifications
Caliber/Chamber: 9x19mm Parabellum, .40 S&W and .45 ACP. A .41 Action Express planned, never released.
Size / Form Factors: Full-sized, Semi-Compact, Compact.
Capacity: 15-round detachable magazine (full-sized 9mm version)
Weight: Varies by model and frame material. Full-sized steel 9mm/.40 S&W is 2.3 lbs.
External Links
IWI's Website: Showing their full lineup of Jericho 941 pistols.