J.C. Higgins
Jump to navigation
Jump to search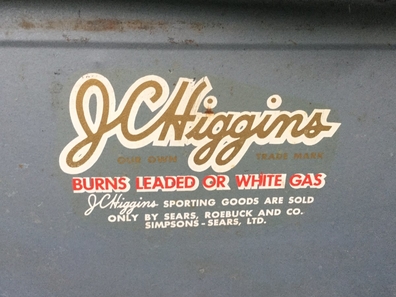 J.C. Higgins was the sporting goods brand used by Sears, Roebuck and Co. from 1908 to 1964. The J.C. Higgins branding featured baseball equipment, golf equipment, bicycles, and even firearms, including a wide variety of rifles, shotguns, and handguns.
These products were sourced from major manufacturers, and this applied to their firearms as well. They sourced their firearms from gun manufacturers such as Marlin and High Standard. Sears, Roebuck and Co. intended the firearms they sold to be affordable and utilitarian, consistent with other companies such as Montgomery Ward's "Western Field" branding.
After 1964, Sears replaced their J.C. Higgins lineup of products, with the "Ted Williams" branding. Many sporting items continued to be sold under this new brand name for quite a while, but Sears stopped selling firearms under the Ted Williams name (and altogether) in 1968, following the Gun Control Act of 1968.
As it turns out, "J.C. Higgins" was actually a real person. John Higgins, the namesake of the brand, began working at Sears in 1898 after emigrating from his home country of Ireland. He would eventually become Vice President of the company, and retired in 1950 as head bookkeeper. John Higgins did not actually have a middle name, but Sears believed the branding would look more presentable adding the "C" initial. John Higgins' expertise in sporting goods, or his status as a sports enthusiast, are not known.
J.C. Higgins Models & Manufacturers List
https://gun-data.com/sears_roebuck_guns.html
The website Gun-Data.com (linked directly above) has an incredible list of firearms sold by Sears, Roebuck and Co. It may or may not be the complete, exhaustive list of makes and models, but it should serve as a fantastic resource for anyone attempting to identify the original manufacturer and model number of their J.C. Higgins branded firearms. That data is listed below:
| Sears Model Number / Catalog Number | Manufacturer / Manufacturer's Model Number |
| --- | --- |
| 1T | Winchester Model 121 (Catalog # 273.27010) |
| 2 C | Winchester Model 131 |
| 2C | Winchester Model 141 (Catalog # 273.27510) |
| 2/57 | Stevens Model 66 |
| 2/58 | Stevens Model 66 |
| 3T | Winchester Model 190 / 273.2390 |
| 3T | Winchester Model 190 / 250 |
| 3T-A | Winchester Model 190 / 290 |
| 4T | Winchester Model 270 (Catalog # 273.2360) |
| 5 | Winchester Model 270 / 275 |
| 5T | Winchester Model 270 |
| 6C | Winchester Model 490 |
| 6C | Cooey Model 64 / 64B |
| 11.2 | Stevens Model 238 |
| 18 | Mossberg Model 183K |
| J.C. Higgins Model 20 | High Standard Flite King 120 (Chambered in 12 Gauge) |
| 31 | Savage Model 521 |
| 35 | High Standard Sport King P1011 |
| J.C. Higgins Model 42 DLM | Marlin Model 980 DL |
| 49 / 80 | Stevens Model 94 |
| 49.118 | Savage Model 99 A |
| 53A | Winchester Model 70 A |
| 54 | Winchester Model 94 |
| 92 | Stevens Model 39 |
| 93 | Stevens Model 38 |
| 94 | Stevens Model 237 |
| 95 | Stevens Model 238 |
| 98 | Stevens Model 37 |
| 100 | Savage Model 58C / 59A |
| 101.3 | Stevens Model 237 |
| 101.4 | Stevens Model 38 |
| 101.5 | Stevens Model 37 |
| 101.12 | Stevens Model 39 |
| 101.13 | Stevens Model 86 |
| 101.16 | Savage Model 6 / Savage Model 87 |
| 101.19 | Savage Model 827 |
| 101.20 | Stevens Model 15 |
| 101.22 | Stevens Model 87M |
| 101.25 | Stevens Model 39A / Stevens Model 59A |
| 101.100A | Savage Model 95 |
| 101.451 | Marlin Model 336 |
| 101.750 | Savage Model 58A / Savage Model 58B / Savage Model 38A |
| 101.1381 | Springfield Model 18 / Springfield Model 951 |
| 101.1620 | Savage Model 530 / Savage Model 311 |
| 101.1700 | Savage Model 94 |
| 101.1750 | Savage Model 94 |
| 101.1760 | Savage Model 94 |
| 101.10040 | Savage Model 94 Series K |
| 101.10041 | Savage Model 94 Series K |
| 101.51004 | Savage Model 94 |
| 101.51009 | Springfield Model 944A |
| 101.51013 | Springfield Model 944A / Springfield Model 944Y |
| 101.51024 | Savage Model 94 |
| 101.51026 | Savage Model 94 |
| 101.512220 | Savage Model 311C (Chambered in 12 Gauge) |
| 101.512230 | Savage Model 311C (Chambered in 20 Gauge) |
| 101.538840 | Savage Model 34 / Savage Model 65 |
| 101.548881 | Savage Model 980 / Savage Model 987 |
| 101.353830 | Stevens Model 89 |
| 102 | Stevens Model 240 |
| 102.25 | Stevens Model 520A |
| 102.35 | Savage Model 521 |
| 103.4 | Marlin Model A1 |
| 103.5 | Marlin Model 90 (Chambered in .22lr / .410 Bore) |
| 103.7 | Marlin Model 90 (Chambered in 16 Gauge) |
| 103.8 | Marlin Model 100 |
| 103.10 | Marlin Model 90 (Chambered in 22lr / .410 Bore) |
| 103.11 | Marlin Model 90 (Chambered in 16 Gauge) |
| 103.16 | Marlin Model 90 (Chambered in 16 Gauge) |
| 103.223 | Marlin Model 90 (Chambered in 12 Gauge) |
| 103.2275 | Marlin Model 122 |
| 103.350 | Marlin Model 90 (Chambered in 12 Gauge) |
| 103.370 | Marlin Model 90 (Chambered in 20 Gauge) |
| 103.1977 | Marlin Model 101 |
| 103.1981 | Marlin Model 81 |
| 103.1982 | Marlin Model 81 DL |
| 103.2236 | Marlin Model 90 (Chambered in 16 Gauge) |
| 103.2237 | Marlin Model 90 (Chambered in 20 Gauge) |
| 103.18800 | Marlin Model 80 |
| 103.19770 | Marlin Model 101 |
| 103.19771 | Marlin Model 101 |
| | |
| | |
| | |
| | |
| | |
| | |
| | |
| | |
| | |
| | |
| | |
| | |
| | |
| | |
| | |
| | |
| | |
| | |
| | |
| | |
| | |
| | |
| | |
| | |
| | |
| | |
| | |
| | |
| | |
| | |
| | |
| | |
| | |
| | |
| | |
| | |
| | |
| | |
| | |
| | |
| | |
| | |