Marlin Model 25MG
Jump to navigation
Jump to search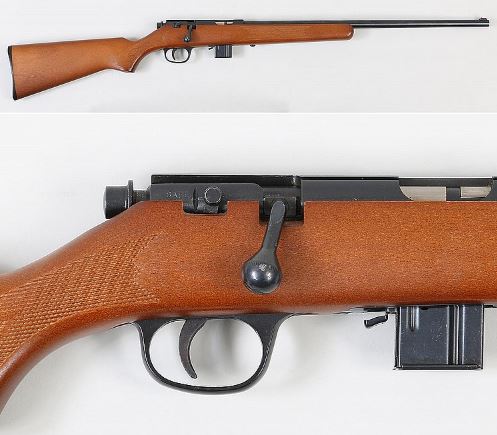 The Marlin Model 25MG (sometimes known as the Marlin Garden Gun) was a smooth bore bolt-action "shotgun" chambered in .22 WMR and manufactured from 1999 to 2002. It is what would traditionally be referred to as a Garden Gun, hence its nickname. It was intended to use .22 magnum shotshells such as those manufactured by CCI and was geared towards close-range pest control for snakes, rodents and so on.
Interestingly, even though it's chambered in the .22 magnum, a round meant to be a rifle cartridge, the Marlin 25MG is very much set up as a dedicated shotgun. For example, there is no rear sight. The gun only features a front sight (a fluorescent orange bead), as would be more typical on an average hunting/consumer shotgun.
The gun was offered with either a wood or black synthetic stock. It is part of the Marlin Model 25 series of rifles, with the major difference of course being the smooth-bore barrel made for specifically firing shotshells.
Specifications
Action: Bolt-action
Caliber: .22 WMR (shotshells)
Capacity/Magazine: 5 or 7 round detachable magazine (Standard Marlin .22 WMR Magazines)
Barrel/Length: 22 inch (560mm) smooth bore
Overall Length: 41 inches (1000mm)
References and Resources
Marlin 25MG Garden Gun: An excellent article at the Marlin Forum discussing the Model 25MG, including high-quality photos.