Marlin 7000
Jump to navigation
Jump to search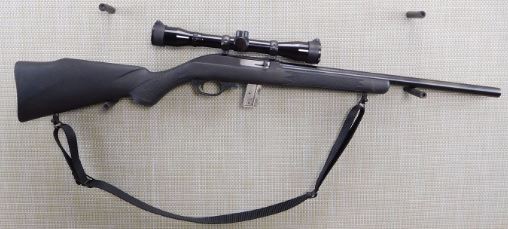 The Marlin Model 7000 was a semi-automatic rifle chambered in .22 Long Rifle that was manufactured by Marlin from 1997-2004. It came with a heavy target barrel and no open sights. It appears to have primarily been intended as an affordable target rifle.
The Marlin 7000 is part of the Marlin 60 / 7000-series and its action is basically identical to the one found in the Model 60 (except for being fed by an external magazine), and identical to the Marlin 795 and Marlin 70P rifles. Other than some minor difference in stock design, barrel profile, take-down capability, etc. Magazines are fully compatible.
The 7000 came out in two variants. The standard model with black synthetic stock, and the "target" version with adjustable pistol-grip laminate stock. Magazines are compatible with other Marlin semi-auto .22's, and this model (along with the others) do feature last shot bolt hold-open.
Specifications
Caliber: .22 Long Rifle.
Capacity: 10-round detachable magazine (higher capacity available).
Weight: 5.25 lbs (2.4Kg).
Barrel Length / Type: 18 inch heavy barrel (with micro-groove rifling).
Scope / Optics Mount: 11mm Dovetail (No open sights!)
Models / Variants
The Model 7000 came in two main variants.
Marlin Model 7000
The standard version with black synthetic stock, very similar in appearance to a Model 795, with some minor differences in the stock, and of course a heavier non-tapered target barrel. As opposed to the 795's tapered barrel, though that model's barrel is still fairly heavy for a standard gun.
Marlin Model 7000T
The specialized "target" model of the 7000. Came with an adjustable red, white and blue laminate stock.

Video Demonstration & Accuracy Test
A video by Shepherd Scopes on YouTube demonstrates the Marlin Model 7000's accuracy using one of their scopes, as well as gives an overview on the rifle in general: