Marlin Model 989 M2
Jump to navigation
Jump to search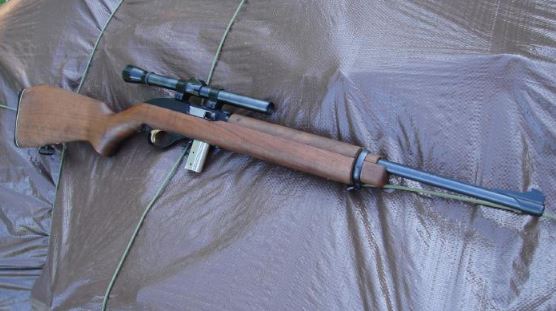 The Marlin Model 989 M2 is a magazine-fed semi-automatic rifle chambered .22 Long Rifle.
It may be described as the magazine-fed counterpart to the tube-fed Marlin Model 99M1. These guns were heavily inspired by the United States' M1 Carbine, featuring a top "handguard", a barrel band wrapping around the barrel and the front of the stock, as well as improved sights compared to the main Marlin Model 99 series of rifles.
It could possibly be described as a precursor to Marlin's modern magazine-fed semi-automatic .22 rifle, the Marlin Model 795. In fact, the internals of these older models and the newer Marlin rimfire semi-automatic rifles, are largely the same.
Specifications
Caliber: .22 Long Rifle
Barrel: 18" barrel with Marlin's Micro-Groove rifling.
Magazine Capacity: 7+1: Apparently came with a 7-round detachable magazine, but larger 15-round magazines are rumored to have come standard with the gun, which would be in line with the magazine capacity of the M1 Carbine. This however, is unconfirmed at the time of writing.