Mekanika Uru
Jump to navigation
Jump to search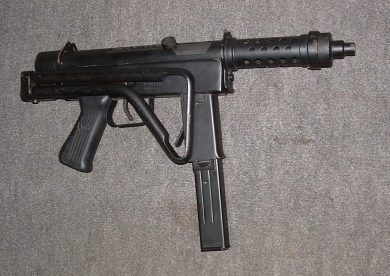 The Mekanika Uru was a Brazilian submachine gun designed by Olympio Vieira de Mello, and manufactured by Brazilian gun maker Mekanika Industria e Commercio from 1977 to 1985. It is well-known for its simplicity and consists of only 17 main parts. It is named after a tropical bird of the same name. Approximately 10,000 units were made in total across the several different models.
Specifications
Caliber: 9x19mm Parabellum (wire and folding tube stocks) and .38 ACP (wood stock model?)
Action: Blowback Operated, Open Bolt.
Capacity/Magazine: 30 Round Detachable Box Magazine.
Rate of Fire: ~750 rounds per minute on full-auto (gun is select fire and can be operated in semi-auto).
Weight: 3 Kg (about 6.6 lbs).
Barrel Length: 175mm (About 6.9 inches).
Overall Length: 671mm (About 26.5 inches).
Models / Variants
- Original / Wire Stock Model, chambered in 9x19mm Parabellum.
- Folding Stock Model, also chambered in 9mm Parabellum.
- Wood Stock Model (only chambered in .38 ACP?)
Clones
Saco Defense Model 683
An American-made unlicensed clone of the Mekanika Uru, manufactured by SACO Defense and chambered in 9x19mm Parabellum just like the original. They were apparently sued over this on copyright grounds and lost the case.
This variant featured a carry handle and a retractable type of stock that would extend directly backward / forward. Similar in function to something like H&K's retractable stocks made for their MP5.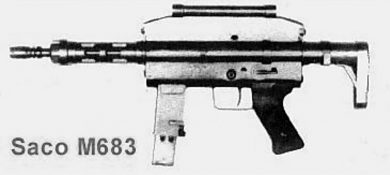 Adoption
The Mekanika Uru saw extensive use with the Brazilian armed forces, as well as Brazilian state and federal law enforcement agencies. However, they don't appear to have seen any significant use outside of Brazil and seem to uncommon outside the country.
It's unknown whether this was ever a primary submachine gun for the Brazilian military, or whether these are still in any real use by their armed forces or police. Many sources appear to list Brazil's current SMG's to include the Beretta M12, Heckler & Koch MP5 and the Taurus SMT-9 submachine guns. As a result, it appears unlikely that the Uru is still seeing any major use in the country.
Additional Info / Resources
Ian McCollum of Forgotten Weapons made a video covering much of the major information on the Mekanika Uru, and goes into detail on the gun's internals, safety features and so on.