Molot VPO-208
Jump to navigation
Jump to search

The Molot VPO-208 is a semi-automatic "shotgun" based on the SKS and made by Russian firearm manufacturer Molot-Oruzhiye. It is chambered in the .366 TKM cartride and features a smooth bore (specifically Paradox bore), which means that this firearm is classified as a shotgun under Russian gun laws.
It appears that many (or all?) of these rifles are based on surplus Russian SKS rifles, repurposed by Molot for the civilian market. They also seem to feature a paradox bore, where the majority of the bore is smooth, with the last several inches containing more traditional rifling.
One interesting thing to note is that despite the claimed 300 meter effective range, the VPO-208 does not appear to come standard with any kind of scope mount. This is a significant change from something like the rifled 7.62x39 OP-SKS, which appears to have always come standard with a Warsaw Pact style side Dovetail mount. It's a major difference, since both are largely intended for the same purposes - civilian hunting, sports shooting, etc.
Specifications
Action Type: Gas-operated semi-automatic.
Cartridge: .366 TKM.
Bore Type: Paradox bore (smooth, with last 125-135mm rifled).
Capacity: 10-round fixed magazine.
Weight: 3.65kg (8.05 lbs).
Barrel Length: 520mm (20.47 inches).
Overall Length: 1025mm (40.35 inches).
Height: 179mm (7.05 inches).
Width: 61mm (2.40 inches).
Sighting Range: ~300 meters (328 yards).
Variants
There appear to be multiple versions of this firearm. One type with a more traditional-looking SKS stock, and one type featuring a redesigned stock with some interesting texturing and so on.
Perhaps the more traditional version is based on surplus rifles, and the latter versions are new production? This will need additional research and verification. Note that this could easily be an issue of different models getting lost in translation from Russian to English, or some sources simply uploaded incorrect or mislabeled photos.
Version With Lancaster Bore?
Although the VPO-208 as well as other Molot firearms like the VPO-209 seem to primarily feature a paradox-style bore, this webpage claims there have been variants with a Lancaster bore have been made. This is a smooth-bore that is actually oval-shaped, which can apply spin to a solid projectile, as well as effectively be used with shotshells and the like. It's unclear whether these were prototype versions of this firearm, so this needs additional verification.
Photos & Images
A small gallery of additional photos of the Molot VPO-208 SKS, from various angles, showing markings and so on.
Parts Diagram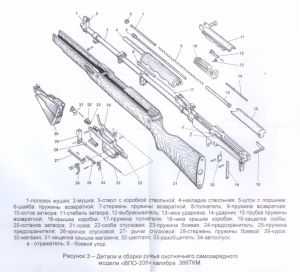 YouTube Video
A promo video for the VPO-208 uploaded to the Molot Oruzhie YouTube channel.
Other Information
Help Support FirearmWiki
We have a number of ways you can help to support Firearm Wiki, including various affiliates. If you're already in the market for products below, it would help tremendously if you'd consider using our links to buy! It'll give us a commission at zero extra cost to you! Thanks so much for your support!
Palmetto State Armory - A major retailer for everything gun-related. Firearms, ammo in all major calibers, and unbeatable deals on AR-15 kits & pre-builts.
True Shot Gun Club - An online retailer that specializes in bulk ammunition in all major calibers, including 9mm, 5.56mm, 7.62x39, 12 gauge and many more.
Brownells - Founded in 1939, Brownells is a one-stop shop for all things firearms, ammunition, reloading & gunsmithing supplies, and more.
GritrSports - A growing retailer who carries all kinds of firearms, ammunition, and various gear and accesories.
GunMag Warehouse - Specializing primarily in firearm magazines, ammo in all major calibers, as well as accessories & more!
Spartan Armor Systems - One of the leading manufacturers of various body armor, as well as steel shooting targets.
Black Ovis - Specializes primarily in hunting gear and various hunting supplies, including archery, camping etc.
Aero Precision - A major maanufacturer of AR-15's, offered in a variety of calibers.
Stag Arms - A manufacturer of AR-15 type firearms, available in various major calibers.
Airgun Depot - A major source for all things airguns & accessories, including ammo, CO2 cartridges, optics, targets & more.
Amazon.com - Our Amazon affiliate link. We'll get a small kickback for any purchase you make, at no extra cost to you!