Molot VPO-209
Jump to navigation
Jump to search

The Molot VPO-209 is a Russian "shotgun" manufactured by Molot-Oruzhiye, and chambered in .366 TKM. It appears to be based on the AKM, and is strictly semi-automatic for the civilian market.
It seems that it is typical for Molot to repurpose existing surplus AKM series rifles by either rechambering / boring them out (or replacing the barrel), limiting them to semi-auto, according to ModernFirearms.net. Finally, the repurposed firearms are sold to the civilian market - as opposed to manufacturing completely new firearms.
Legal Classification
Despite appearance, the VPO-209 is actually considered a shotgun due to Russian firearm regulations, where smooth bore firearms are classified as such. Likewise, the cartridge it fires (the .366 TKM) is of course also classified as a shotgun cartridge, despite largely firing solid bullets ("slugs"). According to this article at ModernFirearms.net this shotgun utilizes a Paradox bore, which starts smooth from the chamber end, with some actual rifling grooves toward the muzzle - the final 12 centimeters (~4.75 inches) in the case of the VPO-209.
Specifications
Platform: Based on the AKM
Action: Gas-operated semi-automatic.
Caliber / Cartridge: .366 TKM
Magazine Capacity: 10 rounds, detachable (from modified 30-round AK-47/AKM magazines)
Overall Length: 880 mm (~ 34.65 inches)
Barrel Length: 415 mm (~ 16.34 inches)
Weight (Empty): 3.6 kg (~ 7.94 lbs) - Some sources show more like ~8.37 lbs. Perhaps loaded weight?
(Info needs additional verification).
In Pop Culture
Escape From Tarkov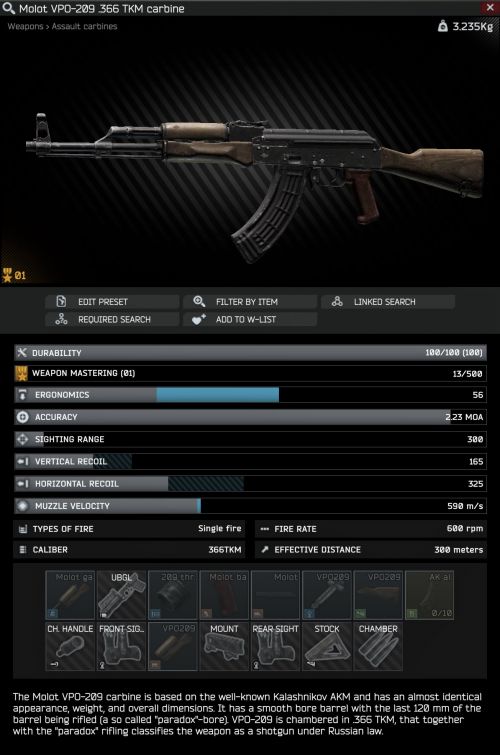 The Molot VPO-209 as well as the .366 TKM cartridge, are featured prominently in the popular online first person shooter "Escape From Tarkov". The VPO-209 seems to draw mixed feelings from the EFT community on how good or bad it is exactly. However, it's a common lower-tier weapon, especially when a player is either just starting out, or early in the game's periodic wipes of players' progress for major updates.
Escape From Tarkov offers an interesting and fairly realistic variety of ammunition in-game. For example, standard FMJ's do decent damage, but penetration is not ideal. On the other hand, "EKO" solid zinc loads do less overall damage, but feature higher penetration that can reliably penetrate lower to mid-tier armor in the game. "EFT" even allows the player to obtain specially-loaded .366 TKM ammunition that contains armor-piercing 9x39mm SP-6 gs steel core projectiles that are capable of penetrating higher-tier armor, and can cause devastating damage to enemies. However, it suffers in accuracy due to improper bullet sizing (9x39 uses a different caliber projectile), as well as having increased recoil, to compensate for its benefits.
Other Information
External Links
ModernFirearms.net - Features a quick summary and some interesting information and specs for the Molot VPO-209 shotgun.
Huntworld.ru - A Russian sporting goods type website that features some information and specs on the VPO-209, seemingly for sale to the Russian public.
Help Support FirearmWiki
We have a number of ways you can help to support Firearm Wiki, including various affiliates. If you're already in the market for products below, it would help tremendously if you'd consider using our links to buy! It'll give us a commission at zero extra cost to you! Thanks so much for your support!
Palmetto State Armory - A major retailer for everything gun-related. Firearms, ammo in all major calibers, and unbeatable deals on AR-15 kits & pre-builts.
True Shot Gun Club - An online retailer that specializes in bulk ammunition in all major calibers, including 9mm, 5.56mm, 7.62x39, 12 gauge and many more.
Brownells - Founded in 1939, Brownells is a one-stop shop for all things firearms, ammunition, reloading & gunsmithing supplies, and more.
GritrSports - A growing retailer who carries all kinds of firearms, ammunition, and various gear and accesories.
GunMag Warehouse - Specializing primarily in firearm magazines, ammo in all major calibers, as well as accessories & more!
Spartan Armor Systems - One of the leading manufacturers of various body armor, as well as steel shooting targets.
Black Ovis - Specializes primarily in hunting gear and various hunting supplies, including archery, camping etc.
Aero Precision - A major maanufacturer of AR-15's, offered in a variety of calibers.
Stag Arms - A manufacturer of AR-15 type firearms, available in various major calibers.
Airgun Depot - A major source for all things airguns & accessories, including ammo, CO2 cartridges, optics, targets & more.
Amazon.com - Our Amazon affiliate link. We'll get a small kickback for any purchase you make, at no extra cost to you!