Molot VPO-215 "Gornostay"
Jump to navigation
Jump to search

The Molot VPO2-15 "Gornostay" is a bolt-action "shotgun" created for the Russian civilian sporting market. It is manufactured by Molot Oruzhie and is chambered in the .366 TKM cartridge.
Due to containing a smooth bore, it is actually considered a shotgun under Russian firearm regulations, which are easier for average sportsmen to obtain. It features "Paradox" rifling, where most of the bore is smooth, with the last 140mm (about 5.50 inches) containing typical rifling. It also has other useful features such as standard Picatinny rail for mounting optics, as well as a threaded muzzle.
The word "Gornostay" ("горностай" in Russian), means "Ermine", also called "Stoat" - A type of small carnivore in the weasel family, though having shorter tails and smaller bodies than many of their larger counterparts.
This firearm is also prominently featured in the online first person shooter "Escape From Tarkov".
Specifications
Action Type: Bolt-action
Ammunition Type: .366 TKM
Capacity: 4-round detachable magazine for .366 TKM & 9x39mm (5-round for .223 Remington VPO-193).
Other Features: Picatinny rail & threaded barrel w/ protector.
Effective range 300 meters (claimed by Molot).
Barrel Length: 420mm, 520mm or 600mm (~ 16.5 inches, ~ 20.5 inches or 23.62 inches respectively).
Overall Length: 912mm (w/ 420mm barrel), 1012mm (w/ 520mm barrel), 1092mm (w/ 600mm barrel).
Weight: 2.70 kg (w/ 420mm barrel), 2.82 kg (w/ 520mm barrel), 2.92 kg (w/ 600mm barrel) - 5.95 lbs, 6.22 lbs and 6.44 lbs respectively.
Variants
According to this page at the "Firearm Central" Fandom site, the VPO-215 is available with several different barrel length options:
VPO-215-00 - 420mm barrel (16.54 inches).
VPO-215-01 - 520mm barrel (20.47 inches).
VPO-215-02 - 600mm barrel (23.62 inches).
Other Versions in Family
VPO-183: A tactical-style variant, chambered in the Russian 9x39mm cartridge. It's unclear if this model is available to the Russian public. Other sources seem to claim the tactical stock for this rifle is available for the VPO-215, but this is also unclear.
VPO-193: Essentially the same as the VPO-215, but chambered in .223 Remington and has a 5-round magazine - one extra round. Also appears to feature the same variations in barrel length (420mm, 520mm and 600mm lengths) according to this site, but this needs verification.
In Pop Culture
Escape From Tarkov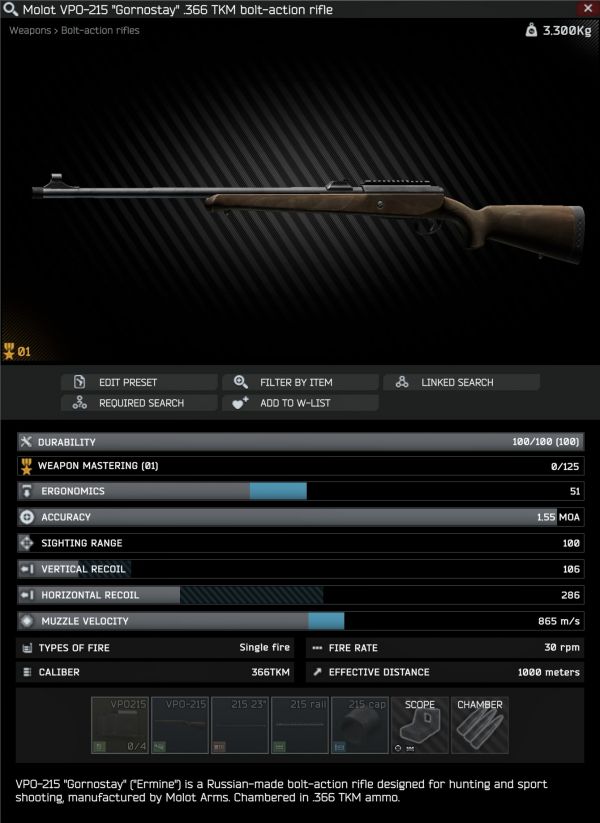 The Molot VPO-215 is featured prominently in the online first person shooter video game "Escape From Tarkov". Early in a player's progress (or even later on with more advanced ammo), the VPO-215 can act as a solid, budget-friendly sniper rifle. Because of other features like built-in picatinny rail and threaded barrel, mounting a scope is a fairly straightforward task and won't require as much setup or cost as some other options in the game. Suppressors can become costly however.
Most rounds will be sufficient for headshots at decent ranges. Also, early ammo like solid zinc "EKO" bullets will allow fairly reliable penetration of Level 3 armor, meaning a typical 2-hit kill to the thorax if a player isn't confident in their ability to land headshots. Further, the option for high-level special .366 TKM ammo like Mechanic's custom loads featuring armor-piercing 9x39mm projectiles can allow for a one-hit-kill to the thorax, as well as the head even when confronting better-geared players with level 4 armor. However, it should be noted that this particular ammo suffers in accuracy due to using an improper caliber bullet for the cartridge and also suffers from increased recoil.
Other Articles
External Sites
Molot Manufacturer Site - The official website of Molot Oruzhie, showing their current products. Use Google Chrome's translate feature if needed.
Firearm Central Fandom - Contains various specs such as length, weight, etc. Note that each VPO-215 variant (and others) have their own individual pages on this Fandom wiki.
Help Support FirearmWiki
We have a number of ways you can help to support Firearm Wiki, including various affiliates. If you're already in the market for products below, it would help tremendously if you'd consider using our links to buy! It'll give us a commission at zero extra cost to you! Thanks so much for your support!
Palmetto State Armory - A major retailer for everything gun-related. Firearms, ammo in all major calibers, and unbeatable deals on AR-15 kits & pre-builts.
True Shot Gun Club - An online retailer that specializes in bulk ammunition in all major calibers, including 9mm, 5.56mm, 7.62x39, 12 gauge and many more.
Brownells - Founded in 1939, Brownells is a one-stop shop for all things firearms, ammunition, reloading & gunsmithing supplies, and more.
GritrSports - A growing retailer who carries all kinds of firearms, ammunition, and various gear and accesories.
GunMag Warehouse - Specializing primarily in firearm magazines, ammo in all major calibers, as well as accessories & more!
Spartan Armor Systems - One of the leading manufacturers of various body armor, as well as steel shooting targets.
Black Ovis - Specializes primarily in hunting gear and various hunting supplies, including archery, camping etc.
Aero Precision - A major maanufacturer of AR-15's, offered in a variety of calibers.
Stag Arms - A manufacturer of AR-15 type firearms, available in various major calibers.
Airgun Depot - A major source for all things airguns & accessories, including ammo, CO2 cartridges, optics, targets & more.
Amazon.com - Our Amazon affiliate link. We'll get a small kickback for any purchase you make, at no extra cost to you!