AMT AutoMag IV
Jump to navigation
Jump to search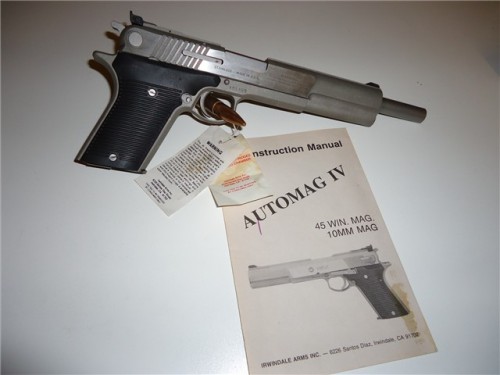 The AMT AutoMag IV is single action semi-automatic handgun made by Arcadia Machine & Tool (AMT) from 1992 to 2001. It was created by Harry Sanford, who also invented the original Automag pistol. This model was primarily chambered in .45 Winchester Magnum throughout its production, but was also very briefly offered in 10mm Magnum until 1993. It had a 7- or 8-round magazine.
Appearance-wise, it has the standard AMT aesthetic of being all stainless steel. It also has the distinctive characteristic of a barrel that extends several inches past the gun's slide, though this appears to only apply to the version chambered in 10mm Magnum.
Information on price / MSRP appears to vary. Some sources cite $700.00 as the original MSRP, while Genitron is showing a price of $549.00 for the .45 Win Mag version. The $700 could either be for the 10mm Magnum model, or simply a later price in the gun's production life. However, on the used market today, one should expect to spend upwards of $1,500 USD for one of these handguns, perhaps even more. That seems to be relatively true of all the pistols in the AutoMag line, not just the AutoMag IV discussed here.
Specifications
Weight: 46 oz (1,300 g).
Overall Length: 10.75 in (273 mm) - (.45 Win. Mag Version?).
Barrel length: 6.5 in (165.1 mm) (.45 Win. Mag.) / 8.625 in (219.1 mm) (10mm Magnum).
Cartridge: 10mm Magnum, .45 Winchester Magnum.
Action: Short recoil operated, locked breech.
Effective range: 50 m (160 ft).
Feed system: 7- or 8-round box magazine.
Sights: Adjustable iron sights.
Resources
Genitron: Shows various specs, pricing, etc.
Archive.org: - This links to an old site which had some specs and info on the AMT AutoMag IV, but it's quite limited.