Molot VPO-913
Jump to navigation
Jump to search

The Molot VPO-913 is a decommissioned version of the SKS rifle, produced by Russian firearm manufacturer Molot-Oruzhie. It's unclear if these are new production, or if they are simply refurbished surplus SKS rifles which are then decommissioned, or both. The latter seems most likely, which is similar to the VPO-208 series of "shotgun" - also from Molot.
According to the photos on the Molot website (shown on this page), these rifles do appear to feature Molot's markings, fresh bluing, and what is most likely a new stock - the latter which varies considerably from surplus Russian military SKS stocks.
Purpose & Use Cases
Molot describes the intended uses for the VPO-913 on their website as follows (Translated to English):
     The decommissioned training rifle is intended for use for cultural and educational purposes, for studying the processes of interaction of parts and mechanisms of weapons. The main parts of the decommissioned weapons have been modified to prevent them from being used in firearms to fire a shot. You can do the following with a layout: Disassembly and assembly in accordance with the instructions; Adjustment of sighting devices; Cocking and lowering the trigger mechanism.

Image Gallery
Additional images of the VPO-913 from the Molot official website:
Diagram
An exploded parts view & diagram of the Molot VPO-913 decommissioned SKS rifle. One is in original Russian, and the other is Translated to English via Google Translate.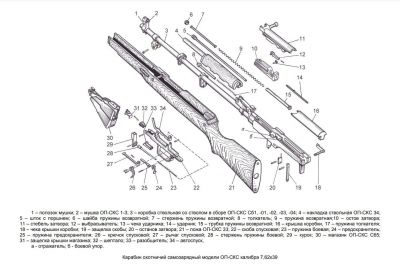 Related Articles
External Links
VPO-913 at the Molot Website - The page for the VPO-913 decommissioned rifle on the official Molot website. Try using Chrome's translate function if needed!
Help Support FirearmWiki
We have a number of ways you can help to support Firearm Wiki, including various affiliates. If you're already in the market for products below, it would help tremendously if you'd consider using our links to buy! It'll give us a commission at zero extra cost to you! Thanks so much for your support!