.17 Incinerator
Jump to navigation
Jump to search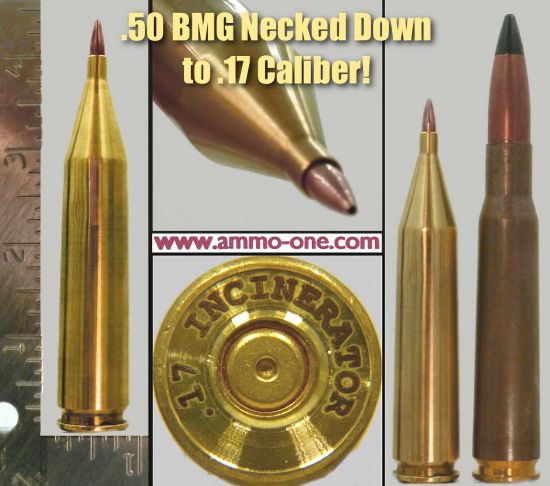 The .17 Incinerator is a novelty Wildcat Cartridge created by necking down a .50 BMG case all the way down to .17 caliber (.177?) - a process which takes many steps. This article will cover that process in a section below. We'll also attempt to uncover who really came up with the .17 Incinerator, as this seems to be up for debate on the web.
Frank Barnes' Cartridges of the World claims it was created as a completely inert novelty cartridge, by a machinist named Zachary Weighman. He also has been credited with creating the ".22 Earsplittingloudenboomer", a .50 BMG cartridge necked down to accept a .224 caliber projectile. That is also an inert novelty cartridge, but it should not be confused with the .22 Eargesplitten Loudenboomer, an actual working creation of P.O. Ackley in order to break the 5,000 feet per second velocity mark with a conventional firearm. That experiment was actually based on the .378 Weatherby Magnum case, necked down to .224 caliber. While it's also fairly comical-looking, it was actually live tested. Other sources claim it's a creation by Kent Wilson of Ammo-One.com. We'll try to shed more light on this below.
Origins
Zachary Weighman
For the .17 Incinerator entry in Frank Barnes' Cartridges of the World (14th Edition) claims that it was first produced by a machinist named Zachary Weighman. His version is inert, and contains no powder. The primer is simply from the original spent .50 BMG round. At the time, he sold them as a novelty for $20 at gun shows and it is noted that the finished piece has no cracks on the neck of the case.
According to Zachary Weighman, "I started making these up for friends of mine, after seeing a drawing of 'Dingbat cartridges'—drawings of mythical cartridges. I thought they were really cool, so I started trying to figure out how to make them. As you can see, I did get it figured out."
"As for his success with the cartridge - 'They are popular and they sell good,' Weighman told Cartridges of the World. 'I attend the St. Louis International Cartridge Show, the largest cartridge show in the world, and I completely sell out of the .17 Incinerator cartridges."
Note that he could be contacted (at the time) at "[email protected]", as mentioned in the book. We'll discuss Mr. Weighman's creation process in just a moment.
Ammo One (Kent Wilson)
Some claim it was created by "Kent Wilson" of Ammo-One, however this is cited in an article by AccurateShooter.com. The problem is that this is an April Fool's article, and gives what appears to be completely made-up ballistics (and prairie dog destruction photos) - for comedy's sake, or perhaps the gullible, or both?
We could find no record of a firearm ever produced for the cartridge, even as a novelty firearm not intended to fire. Keep in mind, it is certainly possible that a similar cartridge has been fired and tested, but there doesn't seem to be any proper evidence for this particular creation.
One thread at CartridgeCollectors forum showed off an overall similar cartridge, though with a different shoulder angle (possibly the ".17 Incinerator Improved", based on other pictures on the web. The user said "This is a total fantasy created by someone who was testing the outer limits of rifle barrel patience and pressure tolerance. According to Keith, the rifle blew up after the 3rd round and all experimentation stopped. The body is of a .50 cal round." Whether that specific information is accurate, is hard to say. It should be noted that the user claims to have obtained their example from the St. Louis International Cartridge Show, the same place Zach Weighman claims to have sold his long, tapered version shown above. Perhaps simply a competing design from another creator (Keith? Kent..?)
Later in the same thread, user "Tailgunner" says "There were a couple versions of the 17-50bmg at the show. The one Vlad shows (the "improved" version) and a dummy with the standard 50BMG shoulder angle." - That seems to be consistent with popular photos online, and the version attributed to Weighman. He even later mentions one vendor having .22 Tuba cartridges, which are also attributed to Zach Weighman in Cartridges of the World. Perhaps that other vendor was Weighman, and "Keith" had his own competing design..?
The Process
As per his story in Frank Barnes' Cartridges of the World (14th Edition and on), Zachary Weighman says, "... the process takes many sizing and annealing steps and some lathe work to machine." Weighman uses his small home mill and lathe setup. He made a die to hold inserts for necking down .50 BMG cases, with each having a smaller diameter hole in it. After 13 steps, the case has arrived at the proper size.
Several annealing steps (at least three) are taken during this process. A small lathe is then used to clean up imperfections on the neck and shoulder. Finally for the neck, he reams the inside diameter and trims to length. Weighman now "sanitizes" the headstamp by turning them in his lathe, and etches his own. And finally, he seats the bullet into the case and polishes.
Other Articles
Help Support FirearmWiki
We have a number of ways you can help to support FirearmWiki, including various affiliates. If you're already in the market for products below, it would help tremendously if you'd consider using our links to buy! They'll give us a commission at zero extra cost to you! Thanks so much for your support!