AMT Lightning (Pistol)
Jump to navigation
Jump to search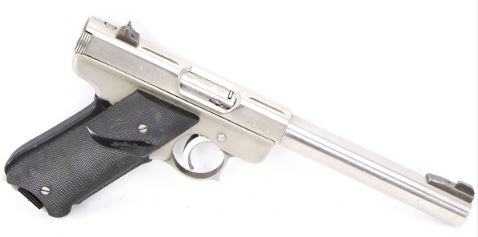 The AMT Lightning was a semi-automatic pistol chambered in .22 Long Rifle, manufactured by Arcadia Machine & Tool (AMT). The pistol was a clone of the well-known Ruger Mark II series of .22 handguns. They featured AMT's typical stainless and black aesthetic and were known for being very high quality copies of the original.
They seem to have come in a number of different models, including a standard "tapered barrel" version, much like the base model Ruger Mark pistol series, as well as target models featuring a heavier barrel, some with black polymer grips, others featuring wood and so on. Blued models were available as well. A "Bulls Eye Target Model" was also available and featured a vented/ribbed barrel and upgraded sights.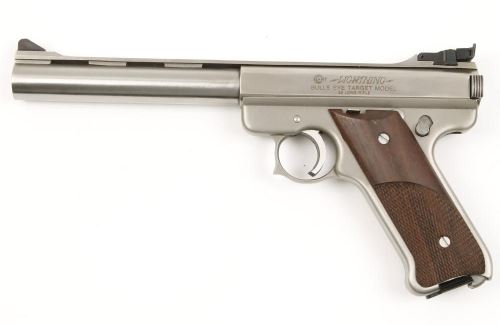 Specifications
Caliber: .22 Long Rifle
Capacity: 10-round detachable magazine (compatible with standard Ruger Mark II magazines).
Action: Semi-automatic blowback.
Barrel Length: 5 inches, up to 16 inches.
Weight: Varies by model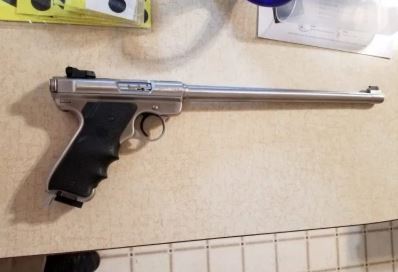 Ruger Lawsuit
As a result of the popularity and extreme similarity between the Lightning 25/22 and the AMT Lightning pistol, Ruger ended up suing Arcadia Machine & Tool. The lawsuit did not appear to be over patent rights, but rather a trademark claim, where Ruger took the position that the extremely similar appearance of the AMT products would confuse the average consumer. Apparently, there was an out of court settlement where AMT agreed to stop producing the AMT Lightning pistol. However, it appears AMT was able to continue making the Lightning 25/22 (rifle).