Colt MARS
Jump to navigation
Jump to search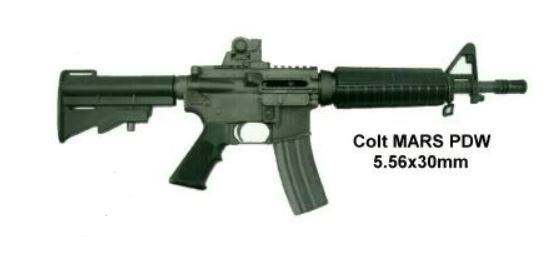 The Colt MARS (Mini Assault Rifle System) was an experimental, scaled-down variant of the M16 rifle tested by Colt as a personal defense weapon (PDW) around 1997. It was chambered for the experimental 5.56×30mm MARS cartridge, which fired a 55-grain projectile at 790 m/s (2,591.9 ft/s). Colt also experimented with a 9x30mm MARS cartridge, which was a 10mm Magnum casing, necked down to accept standard 9mm Luger bullets (.355 caliber).
This platform was meant to The rifle was patented in 1998 by by Colt engineer James Taylor and Michael Harris, founder of Specialized Analytical Services (US patent no. 5,827,992). Apparently, only 3 prototype units were ever produced.
Specifications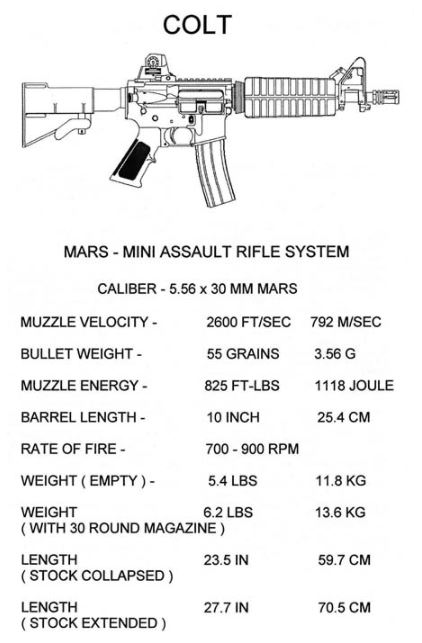 Barrel length: 10"
Overall Length: 23.5" (stock collapsed), 27.7" (stock extended).
Rifling: 1:10 twist.
Weight: 5.4 lbs (empty), 6.2 lbs (w/ loaded 30 round magazine).
Cartridge: 5.56×30mm MARS, 9x30mm MARS.
Action: Gas-actuated, rotating bolt.
Muzzle velocity: 790 m/s (2,592 ft/s)
Rate of Fire: 700 - 900 RPM.
Effective firing range: 300 meters
Feed system: 30-round box magazine.
Sights: 1.5x optical sight.
Development
Purpose
According to Colt, platform was developed "to enhance accuracy, range and lethality over current cartridges such as the 9mm NATO and 5.7x28mm, and current small submachine guns in general. As it pertains to their 5.56x30mm MARS cartridge, it used ball pistol-type powder to achieve high velocities in the platform's short 10 inch barrel. It was to be effective out to 300 meters or beyond. In testing, the cartridge had no issues penetrating kevlar helmets and body armor at 300+ meters.
Changes to M4 Carbine
As noted by Small Arms Review, the prototypes started as standard M4 components, modified to fit the news MARS specifications. The upper receiver, lower receiver, magazine well, and a very long list of other parts were changed and shrunken down for proof-of-concept. In fact, the prototype magazine was a standard USGI STANAG magazine cut along it's length and then welded together to fit the shorter magazine well and cartridge. The Small Arms Review article referenced at the bottom of this article goes into much greater depth on everything that was changed and it's worth checking out.
Adoption and Abandonment
From: Small Arms Review
"Unfortunately the MARS never found acceptance and never entered production. The main interest in the MARS was by the Israelis as a possible replacement for their police Uzi SMG. This was exactly the type of market the MARS was designed for. The production numbers that were discussed would have been 2,000 guns per year for a term of 10 years. Due to this low number of units versus the cost to tool up for the MARS, Colt decided against going into production. Colt had also felt that introducing a new compact firearm would hinder sales of their M16A2/M4 carbine variations."
References
"Colt's 5.56x30 MARS (Mini Assault Rifle System) Program" - An in-depth analysis of Colt's "MARS" program by Christopher R. Bartocci of Small Arms Review. Includes information on detailed changes to the AR-15 / M16 rifle platform, as well as information for the 5.56x30mm MARS and 9x30mm MARS experimental cartridges.
The Firearm Blog: - An excellent article by Nathaniel F. at The Firearm Blog, which further discusses the 5.56x30, as well as the MARS project. Most notable are the trajectory comparisons shown, compared to other cartridges.